Shangri-La
Golden Circle
As the pioneer of Asian hospitality, it is no surprise that Shangri-La has established its hallmark of "hospitality from the heart" for over four decades. It is targeted at the upper middle class of business and family travellers - who believe that high-end quality services and a differentiated experience outweigh its monetary value. With the Golden Circle loyalty programme, it recognises valued guests with status upgrades and loyalty points, opening doors to more privileges and benefits.
Although the pandemic has greatly reduced international business travellers staying at Shangri-La, we see on the flip side that more people are now spending on domestic travel and exploring local staycations. We saw the opportunity to integrate a personalized end-to-end experience for loyal family traveller groups, so they are inclined to remain loyal to Shangri-La's hotels and services.
Design Strategist ······ Janna Tan
UI/UX Designers ······ Kristen Chik, Kasumi Hirano, Michelle Liu
Medium ········· App Prototype︎︎︎
Published ······ August 2021
---
WHAT WE DID
Customized travel preferences at both the individual and family level

Digital check-in with E-key

Personalized dining experience

Offering gifts unique to any occasion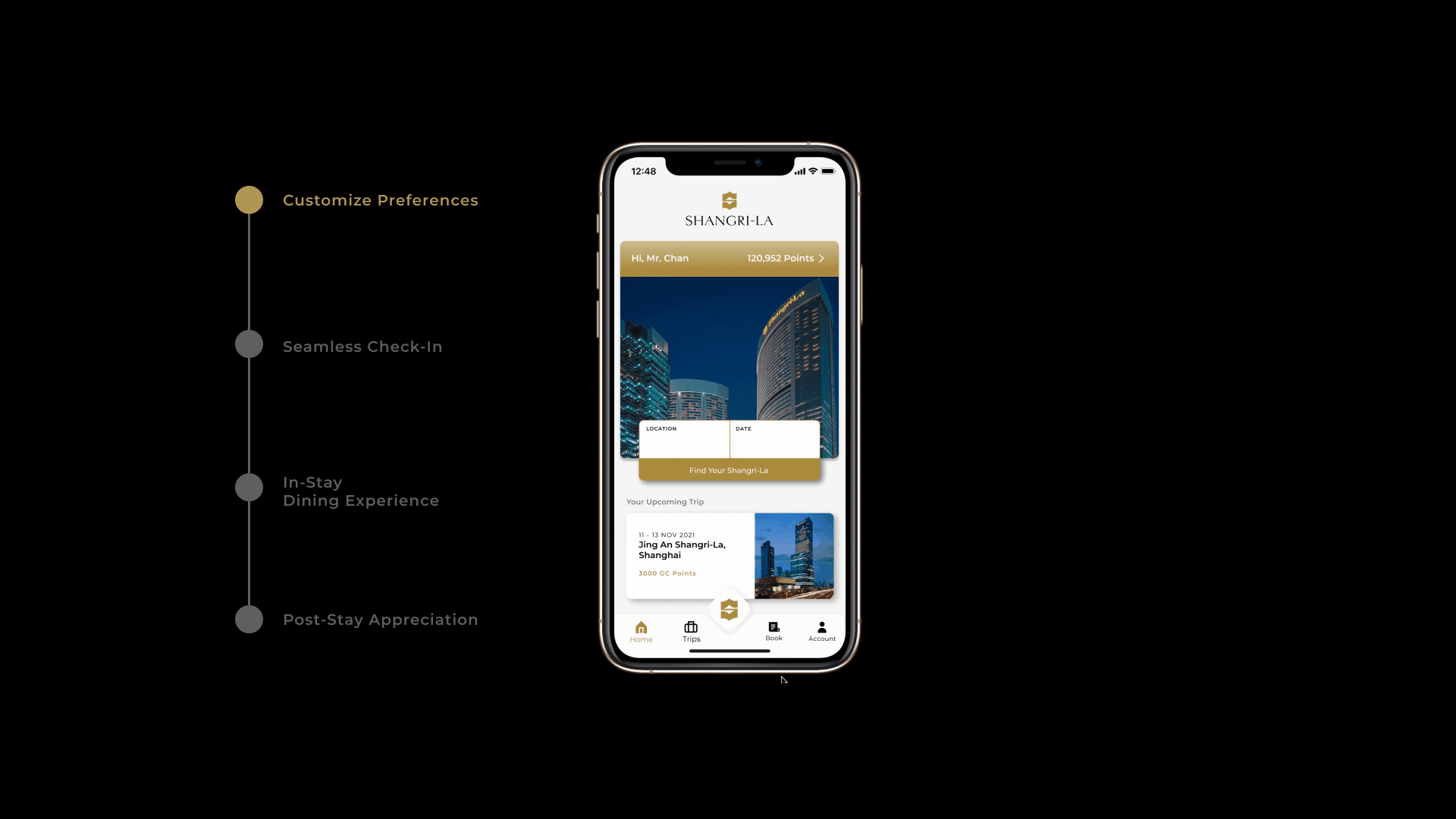 01. Customized Travel Preferences at Both the Individual and Family Level

Not only do you get to save your own preferences, you get to save your loved ones' too. When travelling with your family, each member has their own unique requests that need to be met. You can now personalize it on a family level which saves you the hassele of keying in your special requests repeatedly.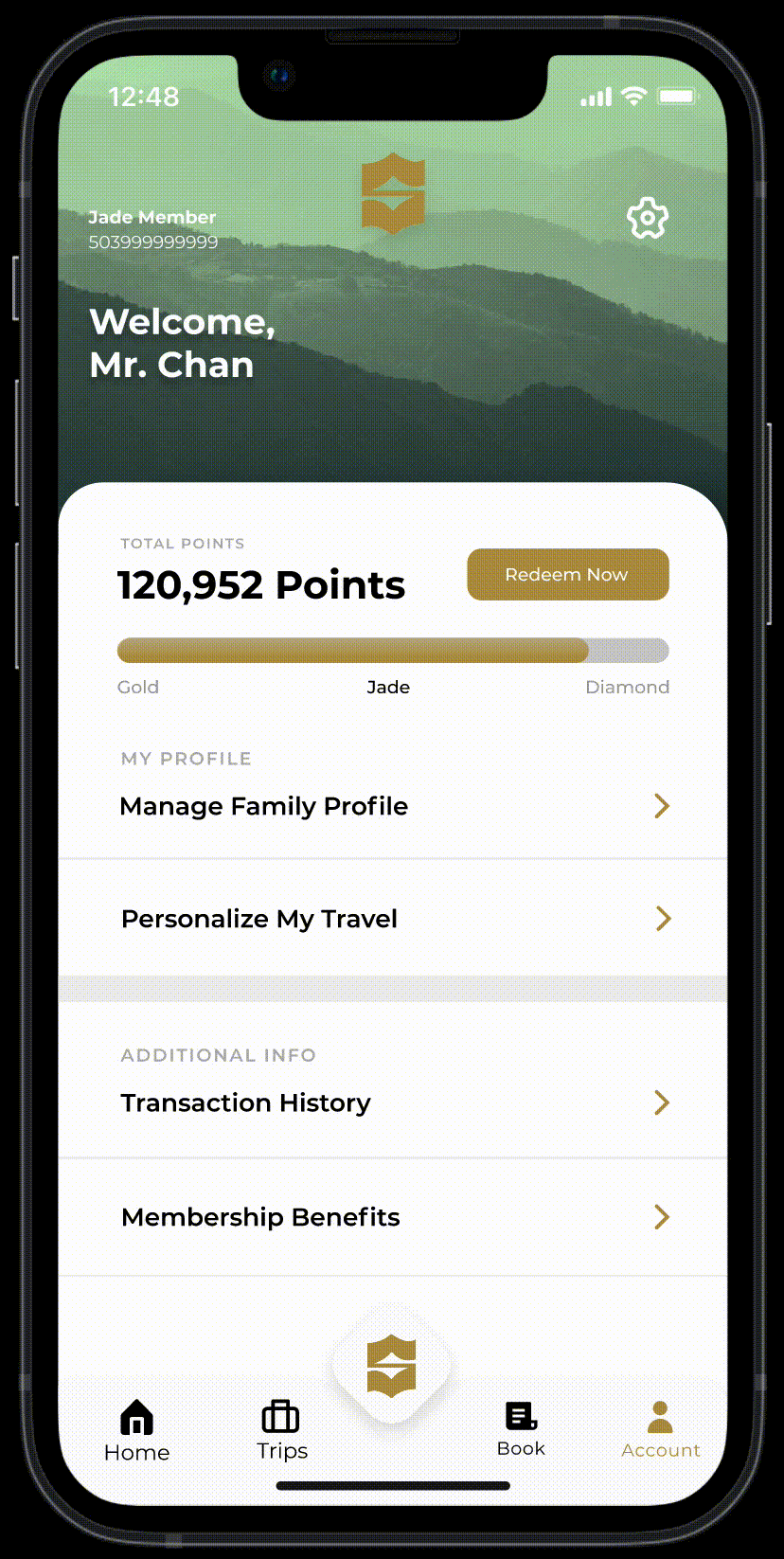 02. Seamless Check-In Experience

Since checking in is the very first touchpoint of the in-stay service, we thought it was important to make a great first impression. One of the pain points we saw in customer reviews was that customers had to wait a long time for check-in. We wanted to make the process with no wait, and as effortless as possible. With the new experience, guests receive a welcome notification upon arrival, redirecting them to the check-in page. Once guests confirm the details of the trip, they can activate the electronic room key, which they can access through the app.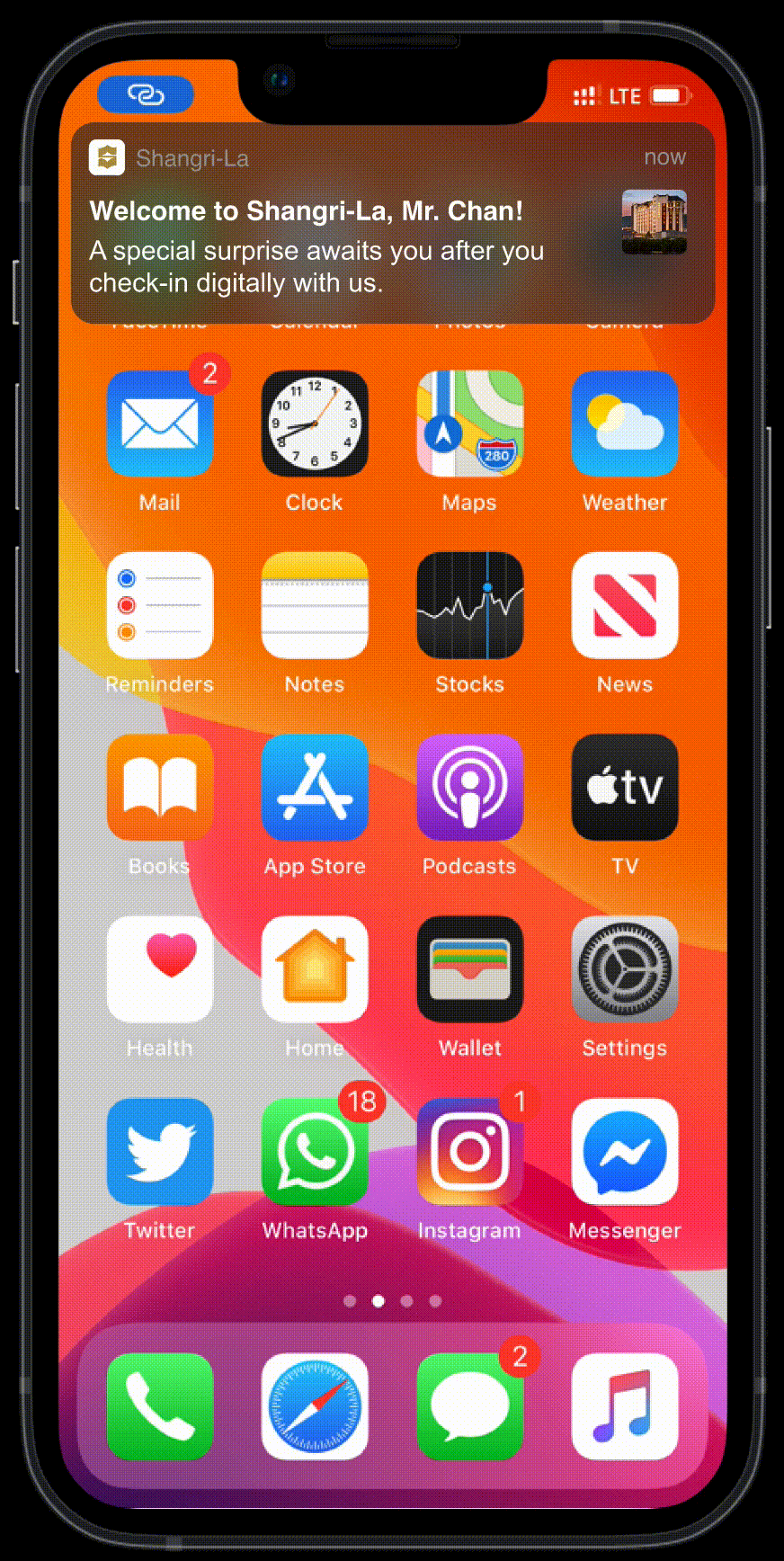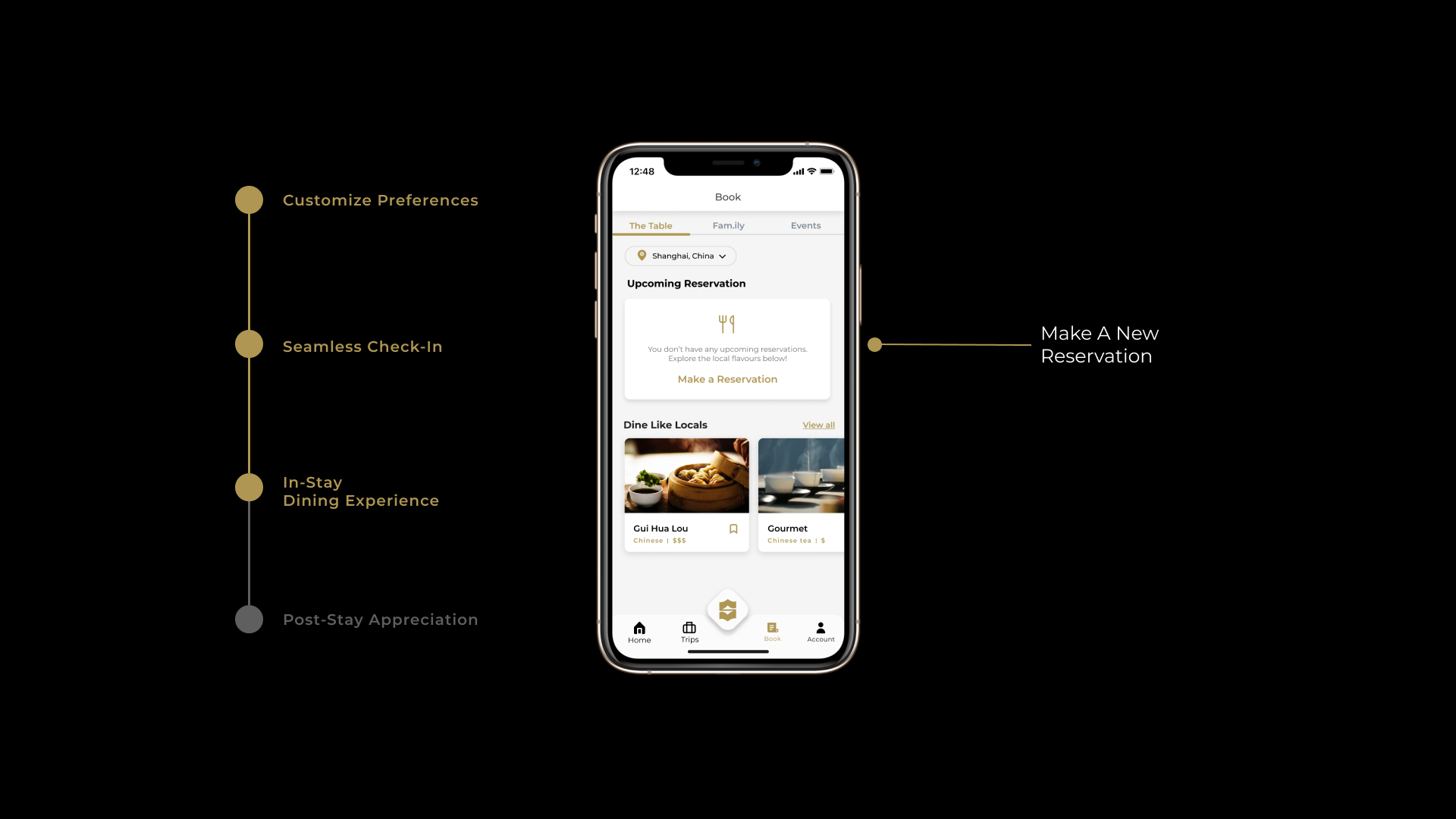 03. In-Stay Dining Experience

Under the booking page, guests can explore Shangri-La's wide network of restaurants and experience signature dishes unique to each city. To streamline the process, dining preferences are automatically stored in the system. Moreover, premium guests can now select the location of their dining table through the clickable map. Guests can be rest assured to enjoy the city view by the window or be allocated closer to the open kitchen where they can see chefs practice their craft. Just like that, dine and be rewarded with points while spending on quality food and experiences at Shangri-La.



04. Post-Stay Appreciation

To show appreciation to the loyal guests of Shangri-La, a post-stay appreciation message with a small surprise will appear upon checking out. Guests may check the credited points in their profile and access gifted vouchers in the GC wallet via the floating action button in the bottom navigation. By scanning the QR code in the GC wallet, guests may continue earning and redeeming loyalty points in future visits. Switch to the Voucher tab to redeem exclusive experiences and gifts, from dining vouchers to spa packages.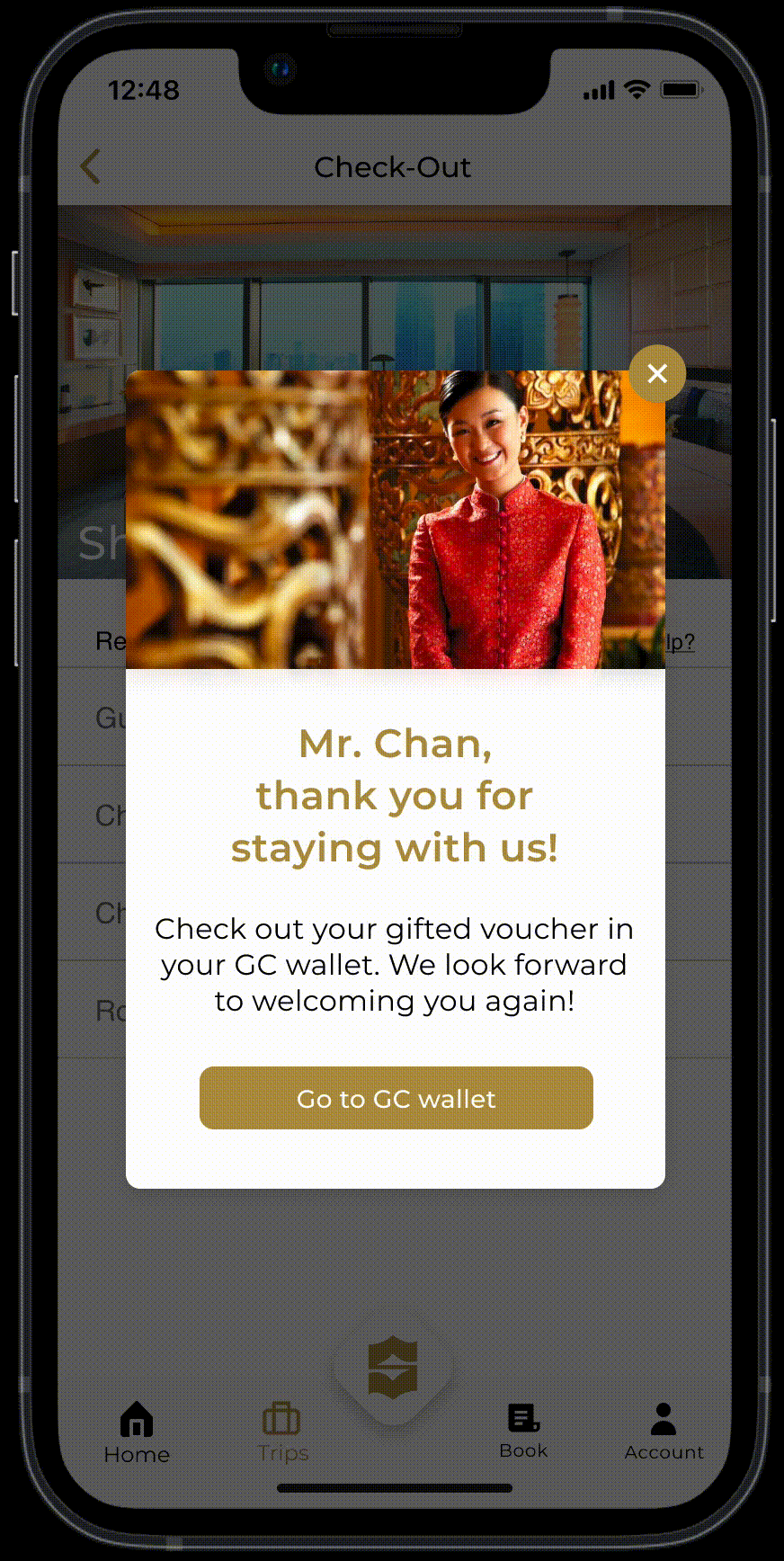 ---
NEXT STEPS
With our proposed solution of integrating a personalized end-to-end experience, our goal ultimately is for family travellers under the Golden Circle Membership to feel appreciated and be returning guests of Shangri-La's hotels and services.

To continue making loyal members feel valued, our future plan is to create an even more seamless service experience through a real-time messaging platform that could coordinate appointments and requests. On top of that, experiential tier rewards and a Shangri-La community platform could be introduced to sustain their loyalty.

With that, we hope that the improved digital experience elevates "Hospitality from the Heart" to a new level.