Habitat
Habitat is an award-winning project my team designed and developed during EPAM's
Hack for Good
2021.
What inspired
Habitat
was how even though many have the desire to live more sustainably, it can be quite overwhelming to kickstart an eco-conscious routine due to information overload. We saw an opportunity to introduce sustainable living not as a huge commitment but rather as small incremental steps in changing our daily habits. Habitat is a web-based platform that evaluates your personal lifestyle and equips you with curated resources on your eco-friendly journey. Since the idea was developed within such a limited time frame, our project was recently selected to be further developed as an internal tool within EPAM as a Corporate Social Responsibility initiative.
Although working across 4 different cities, our team of 2 Designers and 2 Software Engineers successfully delivered a functioning site coded from scratch within a 40-hour time limit. Among 25 teams across the APAC region, Habitat was selected as the winner of the Hackathon.
UI/UX Designer ······ Kristen Chik - Hong Kong
Design Strategist ······ Janna Tan - Singapore
Front-End Engineer ······ Nhan Tran - Vietnam
Back-End Engineer ······ Simon Yao - Shenzhen, China
Duration ······ 40 hours
Process ······ Figma Working File︎︎︎
Medium ········· Website︎︎︎
Published ······ August 2021
---
WHAT WE DID
Quiz Evaluation

Individualized Eco-Friendly Archetype
---
VISUAL ELEMENTS
Habitat is an inviting and approachable community. As part of the brand's visuals, we chose to keep the colour palette simple with the focus on opal green depicting Green Living, paired with flat line illustrations representing each unique archetype.

01. Quiz Evaluation
Begin your sustainable journey by taking Habitat's quiz which evaluates your current lifestyle. The quiz consists of 10 questions that will help identify your eco-lifestyle. Each question was designed based on familiar everyday scenarios that reflects the eco-conscious decisions the user makes.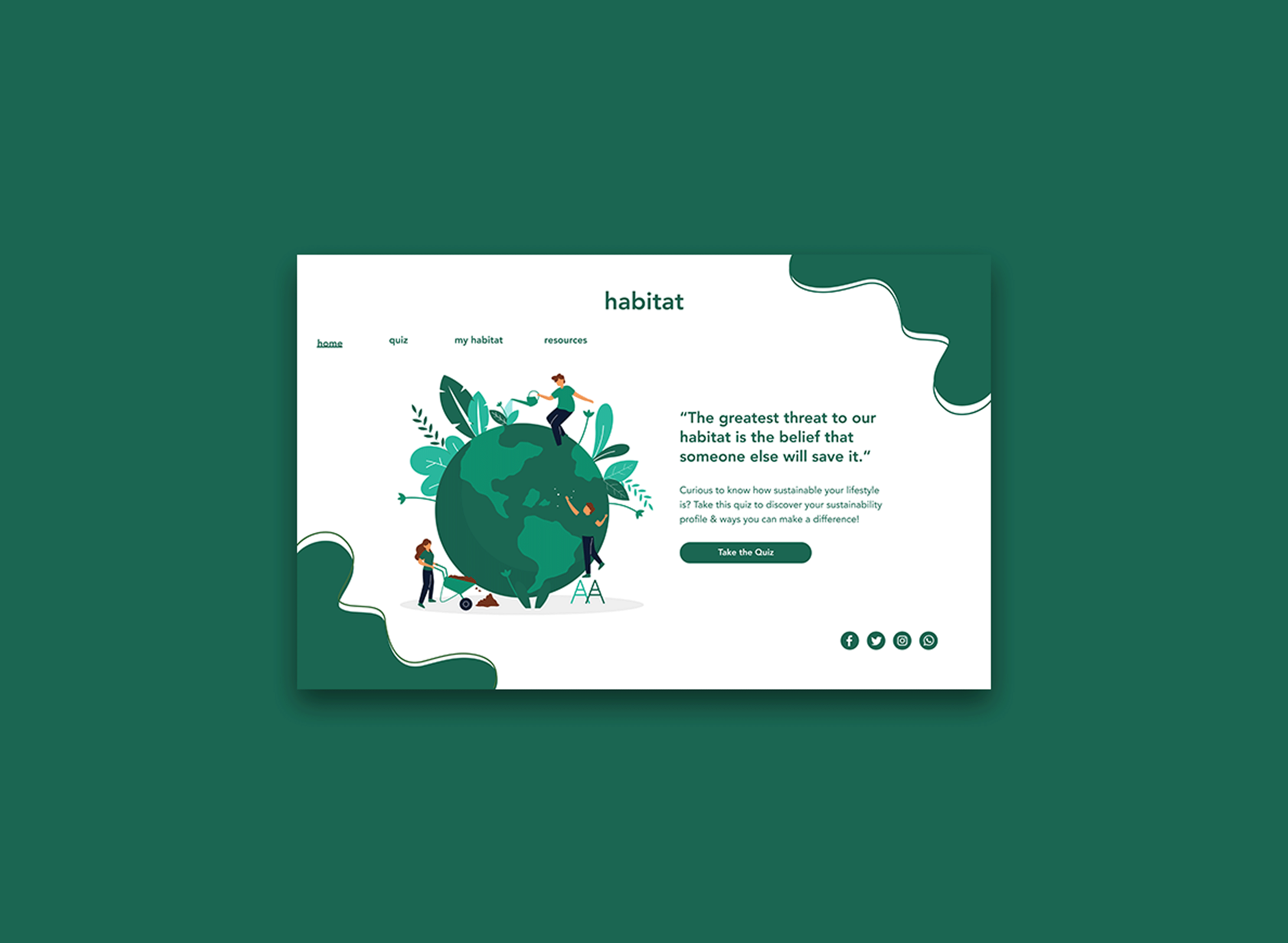 02. Individualized
Eco-Friendly
Archetype
Currently Habitat offers three unique archetypes: the Conscious Consumer, the Savvy Swapper, and the Curious Explorer. Quiz takers will be matched to one of the archetypes based on the quiz results. Each archetype explores different interests and has its own take on sustainable living.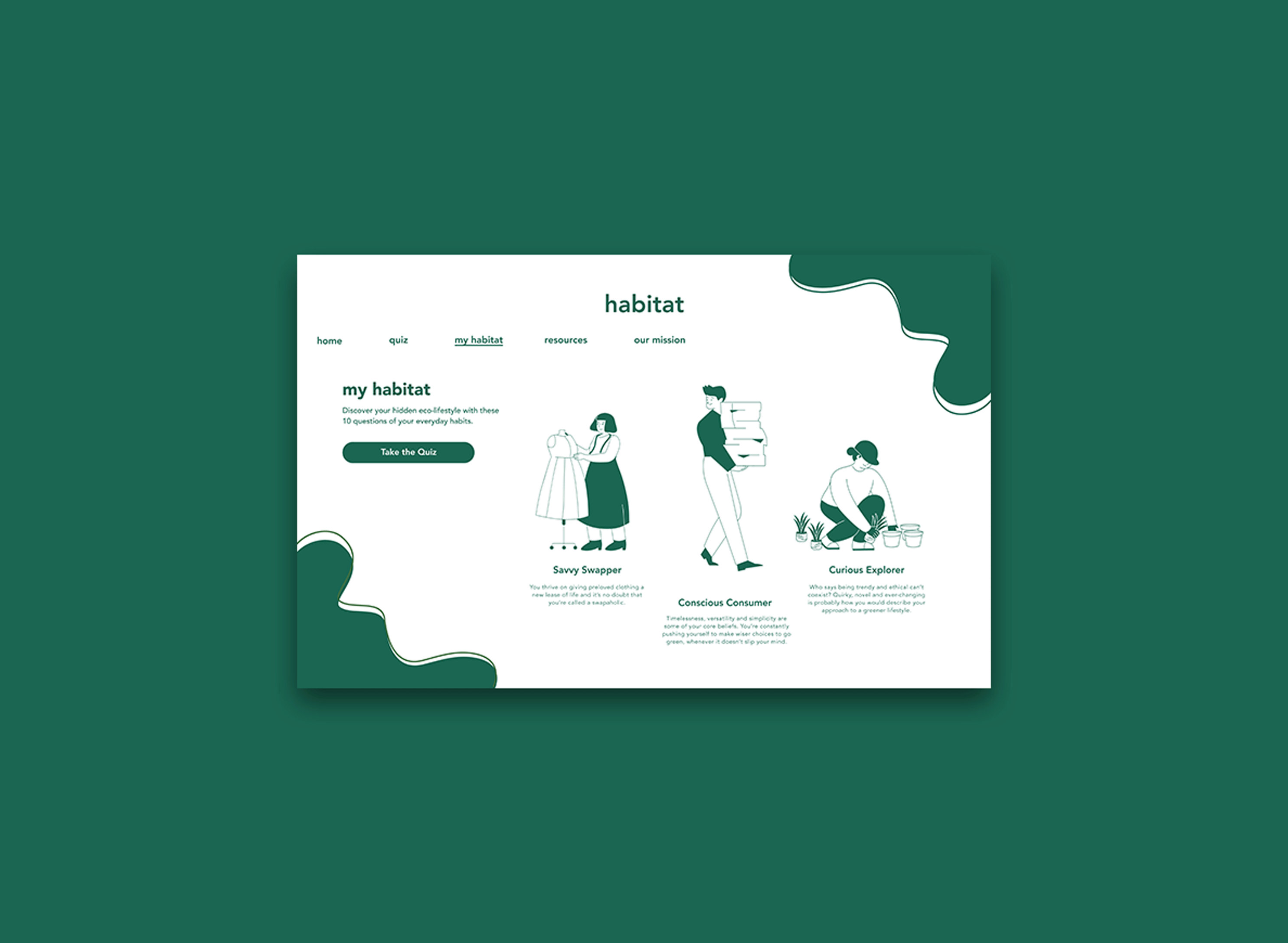 03. Toolkit Guide
Habitat curates simple habits you could integrate into your current daily routine. Be inspired to incorporate and discover new habits through a series of podcasts, recommended zero waste stores, and even DIY Instructable Kits. The core belief of Habitat is that everyone can lead an environmentally responsible lifestyle through simple yet actionable steps.

KEY TAKEAWAYS
One of the most challenging yet rewarding experience from my first Hackathon was that I had the opportunity to work remotely with a very international team. Despite language barriers and a limited time frame, our team collaborated closely together from four different cities across APAC.

Our team's vision was to develop HABITAT as an internal EPAM tool so that the EPAM community can benefit from the quiz evaluation and find valuable resources that could help kickstart their sustainability journey. For next steps, we would prioritze user research by conducting user interviews in order to accurately characterize each archetype. We would also organize and establish a strong visual library for a smoother design handoff process with the engineers.

My first Hackathon was a positive one as it was inspiring to witness the synergy between designers and engineers. After all, some of the most innovative ideas that exist today originated from Hackathons, a proven mechanism for delivering industry-changing results.